As Melbourne begins to ease the various restrictions brought in during lockdown, it seems fitting to explore this vibrant city and see what it has to offer. There are loads of things to do in Melbourne post-lockdown, but it can be difficult to whittle your options down to find something you'll really enjoy.
To help you get back into the swing of things and experience all that Melbourne has to offer, we have compiled a list of things to do post-lockdown in Melbourne CBD. Whether you fancy some cocktails or prefer something more adventurous, Melbourne has so much going on. The only question is, where to start?
Enjoy a cocktail cruise on the Yarra River
The Yarra River runs through Melbourne, making it a perfect spot to enjoy a cocktail cruise. Why not take in the glorious sights of Melbourne's city skyline while indulging in some cocktails with your friends? If you're looking for a unique perspective of Melbourne, enjoying a cocktail on the outdoor deck of a Yarra River cruise could be exactly what you need.
Experience the City Circle Tram
Melbourne is a big city to get around, so for a day out that's a little different, why not take a ride on some vintage public transportation? City Circle Tram 35 is a vintage tram that darts around the city and makes multiple stops at some of Melbourne's most popular spots. The heritage trams of Melbourne are also completely free of charge, so you can enjoy these spectacular pieces of history even if you have a tight budget.
Enjoy Melbourne's street performers
Melbourne is home to some of the world's premier street performers and they have grown to be a staple of the city. Take a day to walk along Bourke Street Mall to immerse yourself in a world of street performances and live acts. Many artists in Melbourne are up-and-coming, so try to snag a CD of Melbourne's future stars and enjoy the wide range of talent available.
Walk Melbourne's historical trail
Melbourne hasn't always been a concrete jungle with fancy skyscrapers, and you can see that when you walk the historical trail around the city. Explore Melbourne's oldest buildings along the way, including the Parliament House and General Post Office – both built way back in the 1850s. For a more comprehensive history lesson, you can wander to the Immigration Museum to learn about the people that founded Melbourne.
Paint the town red in graffiti lanes
Graffiti lanes are a fantastically unique aspect of Melbourne that you won't find anywhere else. Explore the various street art in the graffiti lanes of Melbourne, such as Croft Alley in Chinatown or the stunning Hosier Lane. Although some of the graffiti includes random tags and acts of vandalism, there are some truly inspired art pieces nestled in there, too.
Enjoy a Melbourne brunch
If the locals of Melbourne have a passion, it might be for brunch. There are countless brunch spots dotted around Melbourne's CBD and they all offer a unique culinary experience. From fusion food to classic brunch menu items, as well as the infamous bottomless brunches, Melbourne really, really likes its food. Whether you are looking for Mexican food, Vietnamese food or something completely unique, Melbourne's brunch spots have you covered.
Take to the bars
The nightlife of Melbourne is some of the best in the country, offering a blend of classy bars and eccentric establishments. The best way to experience the nightlife of Melbourne's CBD is to bar-hop – there are so many different places to grab a drink that you really need to try a few out just for the sake of it!
St Kilda
St Kilda is a quaint neighbourhood that features an array of cute seaside eateries, historical architecture and a stunning beach. It's an excellent destination for all sorts of activities, but for a bit of excitement, head over to Chapel Street and find out what's on offer. With that said, one of the best things about St Kilda is the chance to spot penguins coming home after a long day out in the water. They are residents of the area, and they are absolutely adorable.
Swim with sharks
Okay, so our last option is a little extreme, but if you are looking for something that is truly invigorating, why not head to Sea Life Melbourne and book a shark experience for the day? Experience these majestic oceanic predators up close and personal with a unique diving experience. Swim alongside some of the most beautiful sharks including Port Jackson Sharks, Wobbegongs and Nurse Sharks.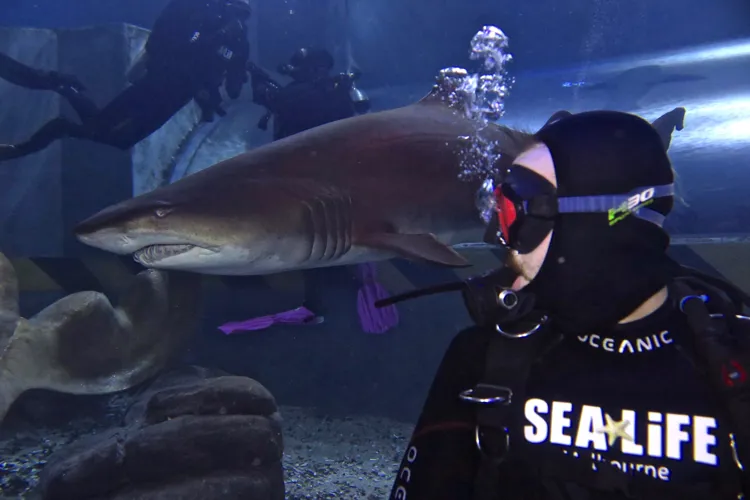 There are so many unique and wonderful experiences in and around Melbourne's CBD that are finally opening back up after lockdown. We feel that Melbourne offers an incredible variety of fun, relaxation and adventure, so there really is something for everyone. So get back out there now that we are post-lockdown and enjoy all that Melbourne has to offer.